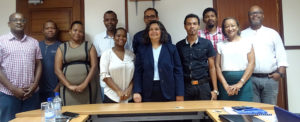 Staff members of Seychelles Pension Fund benefited from a 3 day capacity building training geared at enhancing their ability to administer the PROST toolkit after which they were awarded with a certificate of competency. The training which took place at the SPF training room lasted from Wednesday 19th to Friday 21st September 2018
Pension policies can affect retirement income and public finances for decades to come. As much as retirement income systems may be affordable today they may prove to be unsustainable in the future, given the twin pressures of demographic aging and economic shocks. The World Bank 'Pension Reform Simulation Reforms Toolkit (PROST)', a computer-based toolkit designed by the world bank to promote evidence-based policy making, bridging the gap between quantitative and qualitative analysis of pension systems, is a crucial  tool to have for pension systems around the world.
The World Bank has always been a trusted and supportive partner to the Seychelles Pension Fund from the initial stages of the Funds existence and operation. Following a recent working visit from the World Bank lead economist, Mrs Anita M.Schwarz, it was decided that a refresher course on PROST would be provided to equip SPF staff who have the responsibility of providing advice to top-level management and decision-makers and drafting policy and program documents, with knowledge and skills in understanding PROST, a tool-kit which can support the development of different pension policies.
The model which is used by more than 100 countries worldwide will enable SPF to estimate future trends of the pension system over a long time frame, this includes coverage, contributions, benefits and financial flows. More importantly it will allow SPF to test the robustness of its system to shocks and evaluate and compare reform options to promote informed policy making.