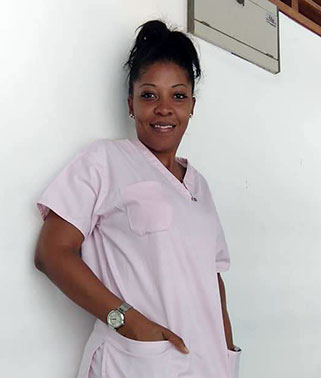 With Vivi Brown skin Sinon , Francisca Dogley, Kerina Savy
On World Health Day this week, Seychelles Pension Fund wants to contribute to, and take a moment to celebrate our doctors, surgeons, nurses, midwives and other healthcare workers for their selflessness on the medical forefront. They work tirelessly investing themselves, their time, their life for the betterment of others; something that needs our appreciations.
Miss Sylvie Sinon, who is now the 2nd in charge at the Family Hospital provides us with the physical, emotional and psychological rollercoaster experience she went through as a frontline officer handling the Covid 19 pandemic and how it has impacted her life. She opened the isolation center for the very first suspected case at the Anse Royale Hospital on 27th February 2020, together with Health Care Assistant Francisca Dogley. She was part of the team providing training to other staff.
Asked what was the emotion she felt, being called to work with the Covid 19 pandemic, her response was that it was reminiscent to having been trained in the military and one fine day you are called out to war. 'It's real and staring you in the face'. She recalled that she had just ended her afternoon shift and was called out to double shift on the Covid 19 case. 'I remember I only had time to go home, shower and the driver was at hand to pick me up. There was that moment of instantaneous panic – 'I threw up twice actually, as I felt my whole body being shriveled by fear. Nothing can possibly prepare you for anything like that, not even the best training in the world; she muted.
Miss Sinon who has been a nurse since 2005, but took a break only to come back to her calling eight (8) years ago, puts this down to the emotional fear instilled by the world's media on the subject. 'At first the whole situation was overwhelming. To think that I had gone through this whole preparatory procedure over and over before, even for the Ebola outbreak in Africa, one would have thought that I would have been ready. 'This has been a roller-coaster experience that I have grown through and I am proud today that I feel so much stronger both as an individual and professionally' she recounted.
Another element that affected her and many of her colleagues was the persistent stigmatization they experienced on various fronts.  On her personal level, she experienced stigmatization from people in her immediate environment, who became insensitive possibly caused by lack of information on the virus. It triggered a lot of psychological fatigue, over and above the physical fatigue caused by the intricacies of the job at hand. But she is forever grateful to her mother, brother and immediate family who has been towers of strength for her in this time of need. 'There is always the fear that we, the front liners may be infective, thus the ones with strong potential to transmit the virus' exclaim Miss Sinon, 'but the reality is that we are the safest people to be around as we are always well protected since we already know what we are dealing with' she continued. Miss Sinon also added that with time, she has become more confident in her ability, a feeling that many of her peers in the local medical sphere has shared. Having been able to help so many people recuperate back to full health has played a major role in achieving so much confidence in their abilities.
Seeing my patients recovering to full fitness after being infected, has been the strongpoint of my experience with Covid 19 – it's an inexplicable feeling. I don't see myself as just a care giver, I also build a rapport with all my clients, I grieve with them, I give them emotional support, as I myself used to be a counsellor. It can be a very lonely place those patients in the isolation. It is not like in the public Hospital where members of families can visit, and I recall a few instances where I was personally impacted by patients who became psychologically wedged from the loneliness of being in isolation – no contacts with the outside world, yearning to see their loved ones. It hasn't been plain sailing for some of them, and as the person taking care of them you cannot always divorce yourself from sharing their pains, said Miss Sinon.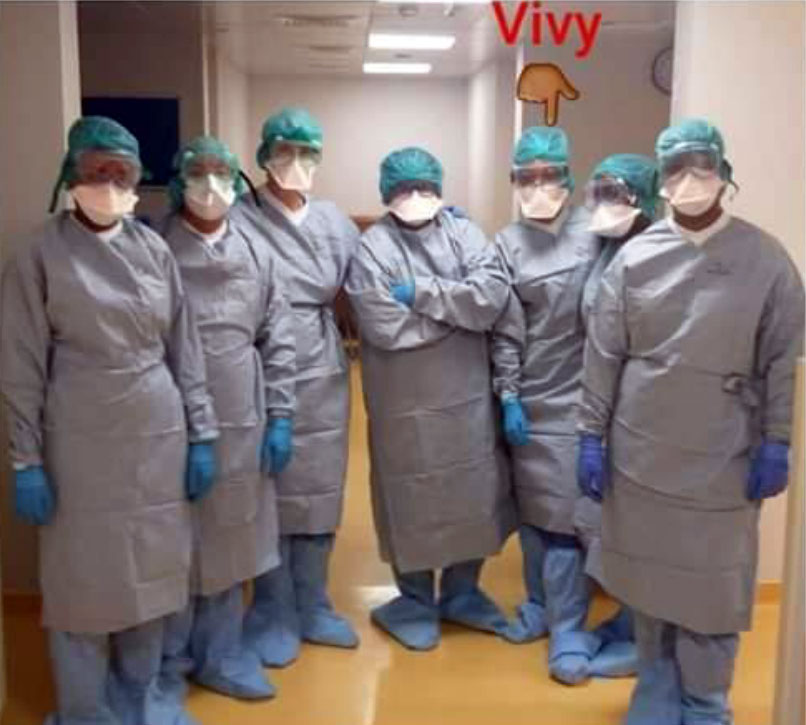 From the public's point of view, the nurse acknowledges their high involvements and support towards the beginning of the pandemic, something she says she is personally very grateful of; however, she is dismayed by the way most people have become complacent over time. We rely on the support of members of the public to follow the health guidelines set in place. After all, as the fight against Covid 19 intensifies, the fatigue factor comes into play, thus with more corporation coming from the public, it can allow for a much-deserved break for the men and women in white.
The Covid 19 situation has become a timely reminder for Miss Sinon and many of her colleagues, of the reason that they have chosen this profession. It is a job they love and give themselves wholeheartedly to. It is also an awakening moment for them to realize how much of themselves they put on the line in the name of health, something that members of the public have gradually learned to appreciate with time. 'We look to our close ones for hope and the strength to carry on when things get tough. We look to the community to extend a helping hand, with their thoughts, positive behaviours and other signs of encouragement that would make our lives and those suffering, easier. Whilst we look after the community, we also turn towards the community to look after us. Our devotion to our vocation keeps us going', Miss Sinon concluded -who care for our carers? We need our own people to care for our carers.
Look to help each other to a long and healthy life. Love your job and contribute towards your retirement today. For more information about Retirement Pension please click on this link  https://pensionfund.sc/retirement-pension/