Seychelles Pension Fund (SPF) is delighted to share that our "My Pension e-Service" platform on the website is now fully functional. This service will allow customers to access information on their pension contributions – including their statement of accounts – online. Customers can begin to use the "My Pension e-Service" platform by following these steps:
Contact our office on 429 4699, so that we can register you. You will need to provide us with: 1) Your Full Name, 2) Your NIN, 3) Your Mobile Number, and 4) Your Email Address.
After you have been registered by our team, an email will be sent to the email address provided to confirm your registration. Open this and scroll down. You will be invited to click on the link, which will automatically bring you to the e-Service portal;
When the e-Service portal page appears – to complete your registration – you will be asked to input and submit your NIN for security purposes;
After inputting your NIN, a second email will be sent to you with an automated password. Open this email, copy the password and paste into the field provided on the portal to log in;
Once you have logged in, you will be invited to change the automated password generated for you, to one of your own choice. We highly recommend that you create your own password. Once your password has been changed, you will have full access to your online contribution records.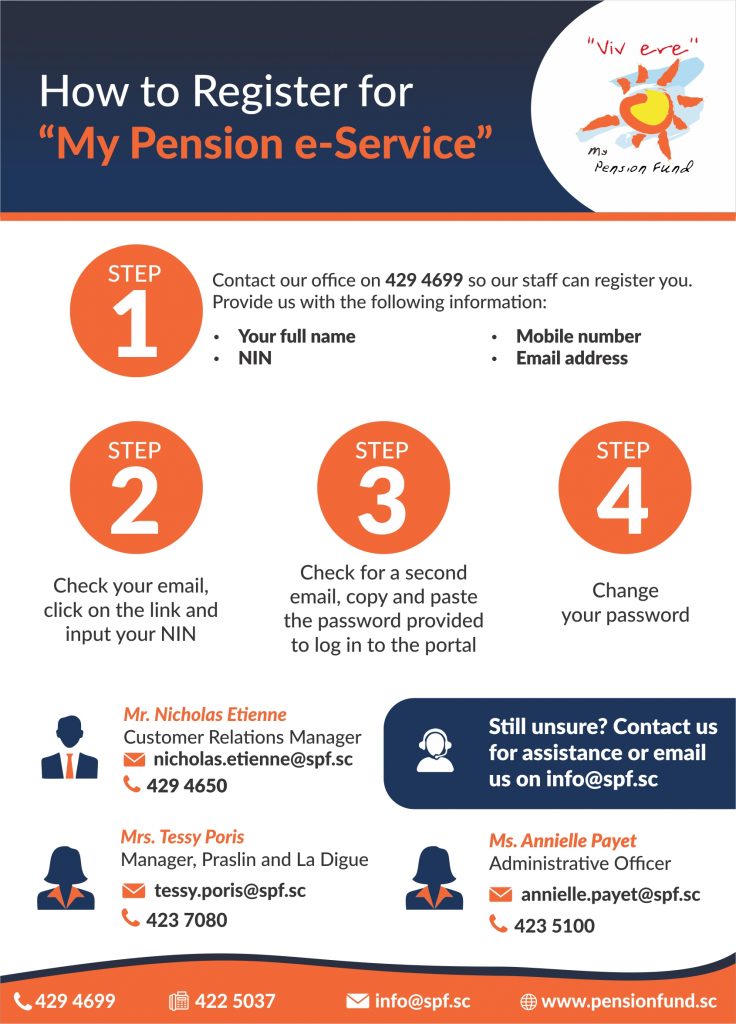 For any queries relating to the "My Pension e-Service" registration process, customers can contact Mr. Nicholas Etienne, Mrs. Tessy Poris or Ms. Annielle Payet on the contact details outlined above.