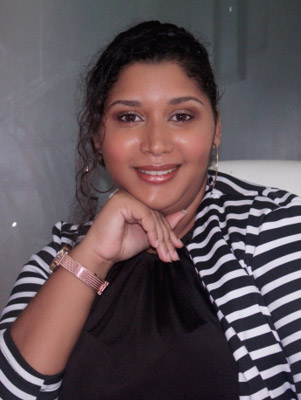 'Having previously been an employee of Seychelles Pension Fund has definitely played in my favour when handling the organization's e-contribution platform' said Mrs. Ruby Rose, owner of Ruby Rose Secretarial Services, the only professional Office Management services of its kind on La Digue.
As an Office Management services, Mrs. Rose assist the La Digue business community with professional service solutions, ranging from letter writing through to Tax / Pension payment services.
'I first heard of the platform from the advertisements that SPF was running on television, a tool I soon found to be very useful both for my clientele and myself, specially during the period of Covid 19 restrictions', remarked Mrs. Rose. It did not take her long to work her way around it, given her previous knowledge of SPF internal contribution processes. The professional service provider chuckled that by using this application, is reminiscent of her employment period at SPF between 2010-2013. 'Isn't it ironic that I now find myself doing part of the same job I used to do, the only difference is that I am doing it in another capacity' said Mrs. Rose
However, she is adamant that other professional services will find the application client-friendly to administer.
After having self-registered as an administrator on the application, Mrs. Rose states that she was immediately adding other clients from her portfolio and new ones to the ready-made platform. According to her, the platform streamlines the processes that an employer has to follow to be compliant with SPF payment requirements which makes the process more convenient and efficient for the services she offers. In doing so the platform enables her to assist the otherwise busy businesses on La Digue to keep up with their obligations of securing their pensions by contributing regularly towards SPF. From the customers perspective, Mrs. Rose believes that her previous involvement working with SPF promotes confidence in them that she is taking care of that side of business on their behalf -thus a feel-good factor all round.
To note that the e-contribution platforms allows employers to generate monthly payroll and undertake contribution payments simultaneously via either Bank Transfer, Cheque payment or Card Payments.
Mrs. Rose is happy to use either of the three methods of payments for her clients, and reiterates that this is the way forward for her. She is encouraging both self-employed workers and other businesses on La Digue requiring the service to visit her business located in the Port Authority Building at La Passe.
Mrs. Rose story is testaments to the ongoing progress being made by women in the world of business and adapting well to changes. SPF wishes Mrs. Rose the very best in her future endeavors.